Sorry that I never got an update out on Friday's match.  Jeopardy was preempted here, so I didn't get to watch the match until late Saturday.  Quite a good match, mind, as all three players played well and wagered well, and all three were rewarded with advancement.
The only player who played close to expectations was Mark Japinga.  Jared Hall played conservatively, but never made a misstep (outside of 1 Daily Double), and took the win after Japinga wagered for a Wild Card spot in Final Jeopardy.  Sandie Baker didn't have the best game either, but still had enough money to bet big in Final and take the last Wild Card spot.
So, we have our nine players.  Stepping back to evaluate the performance of my system so far, I'd have to give the system's predictive power a rating of B- so far.  It whiffed on Andrew Moore being the favorite, but on the other hand of the five players least likely to advance, four of them indeed failed to advance. On an individual game basis, the middle ranked player won all five games, although to the system's credit in two of those games the favorite was leading heading into Final.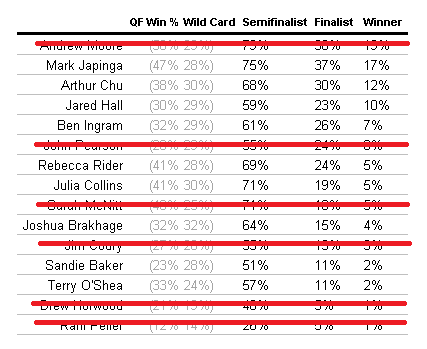 Looking forward, the picture is much more clear.  We know what the three semifinal matchups are going to be (thanks again to The Final Wager for releasing them on Friday), and the picture of what our three finalists are going to be is getting clearer.  As a result, there have been some massive shakeups in our odds.  Let's look at each matchup in detail.
Monday's Game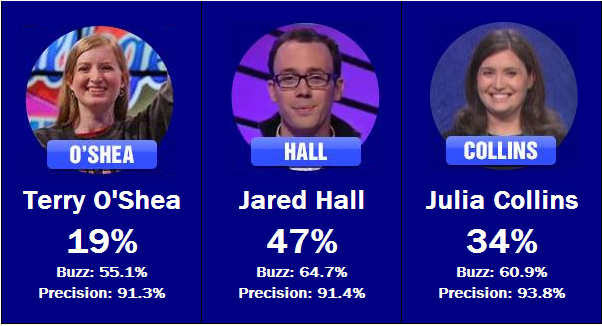 (Our buzzing and precision scores have been recalculated to include each player's quarterfinal performance)
After looking at the draw, I'm pretty sure that the semifinal matches are seeded based on each player's quarterfinal score. The top three winners go into one group, the other two winners and the best wild card go into the second group, and the remaining wild cards go into the final group.  Each game is made up of one player in each group.  Terry O'Shea's Thursday score was the third best score among the winners, and I bet Jared Hall and Julia Collins are thankful for that fact.  In another universe, they could be playing against one of the other top seeds: Arthur Chu or Ben Ingram.  Instead, Hall and Collins will likely battle it out among themselves for the finalist spot.  Hall's stronger buzzing percentage gives him the edge over Collins' better precision.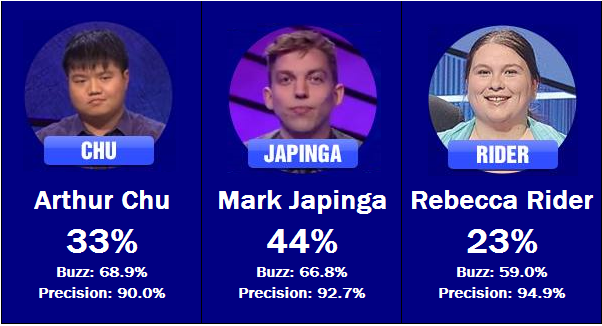 If Arthur Chu ends up winning the tournament, nobody could ever accuse him of getting an easy draw.  After taking down Andrew Moore in his quarterfinal match, he now faces off against Mark Japinga, our system's current favorite. Rebecca Rider rounds out this trio – she'll have to be at the top of her game to get past Chu and Japinga.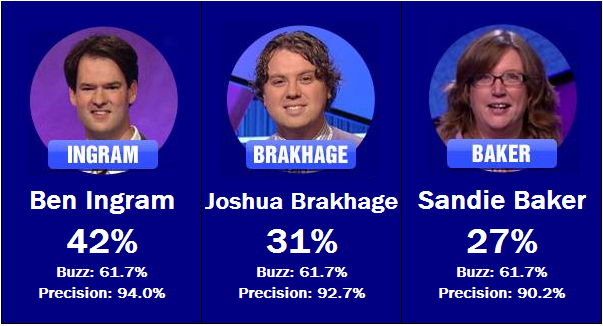 Wow.  Just … wow.  After factoring in each player's performance in the quarters, we have a situation where each player's buzzing percentage is practically the same.  Ben Ingram has the edge in the system thanks to his superior precision, but really this one could be anybody's game.  It would not surprise me to see Joshua Brakhage or Sandie Baker advance.  Expect this game to be close going into Final Jeopardy.
The Odds
With the semifinal matches now set, our odds now look quite different: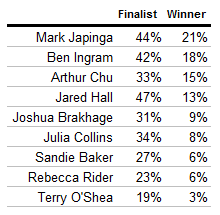 Mark Japinga now takes up the mantle of favorite.  If Arthur Chu beats him on Tuesday like he did to our previous favorite, I would be very surprised if he didn't go on to win the tournament.  Ben Ingram moves up to #2 despite Wednesday's game being little more than a crapshoot.  Monday's winner will probably end up being the underdog going into the final games; the system only sees one of those three winning one time in four.
No matter who advances, expect some excellent knowledge and strategic game playing on display.  Check back all this week for updates.